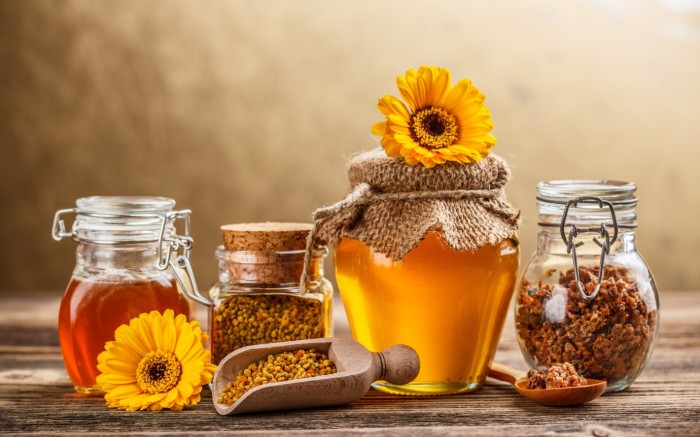 Last updated: November 11th 2017

Unlike mosquitoes, spiders, cockroaches and other insects, most people actually love bees. Why? Because they give us delicious honey, of course!
However, apart from using honey to add natural sweetness to foods and beverages, bee products offer a host of incredible healing powers. Apitherapy, the art of using bee products, has been around for centuries. The ancient Chinese, followed by the Egyptians and Greeks, first used it and several studies have indicated that the bacteria carried in the stomach of bees, could provide an alternative to modern antibiotics. Studies have even suggested that bee products could help with the management of arthritis, multiple sclerosis, Lyme disease, HPV, Alzheimer's, cancer and a variety of autoimmune diseases.
In today's post, we are going to discuss some fabulous uses for honey and other bee products. Just imagine you could…
improve your mood
speed up your metabolism
improve brain function
treat inflammation
fight allergies
enjoy a better night's sleep
and boost your immune system
… By consuming bee products! Let me show you how.
Bee Product #1 – Introducing Bee Pollen
What is it and How is it Made?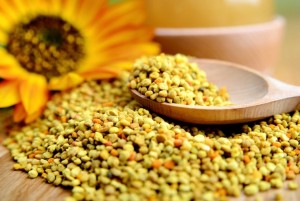 Most people associate pollen with the allergy-causing particles that are carried by the wind. Bee pollen is not quite the same as plant and grass pollens. In fact, it rarely causes allergies.
Pollen is the male seed from a flower blossom, which honeybees collect and mix it with their digestive enzymes to deliver a powerful super food for young bees. If a single worker bee had to work eight hours straight, it would take one month to gather a teaspoon of pollen. After all, a single pollen pellet contains in excess of two million flower pollen grains. A teaspoonful of bee pollen contains 2.5 billion grains of flower pollen.
 Why is Bee Pollen Healthy for Humans?
Bee pollen is rich in vitamins and minerals, protein, enzymes, bioflavonoid, carbohydrates, and beneficial fatty acids. It contains nearly all the nutrients required by the human body, including B-complex, folic acid, and amino acids. Bee pollen is almost 40% protein, consisting mostly of free amino acids, a type of protein, which is easily bio-available to the body.
Main Health Benefits, Uses, and Precautions
Here are some of the best reasons why you should start consuming bee pollen:
It is a natural energy booster, thanks to the B-vitamins, protein, and carbohydrate content.
It is a natural skin soother for skin irritations, psoriasis, eczema, and even burns.
It has anti-inflammatory benefits, due to the high antioxidant content.
It is useful for fighting allergies, as it reduces the histamine presence.
It contains digestive health-boosting enzymes.
It is a natural antibiotic that can help boost your immune system.
It can help reduce cravings, thus treating addictions – particularly addiction to food.
It is heart-healthy due to the large Rutin content. Rutin is an antioxidant bioflavonoid, which assists in correcting cholesterol levels and improving circulatory issues.
It can help reduce prostate inflammation to bring relief for people who suffer from benign prostate hyperplasia.
It can boost fertility by restoring ovarian function, and balancing hormones. What's more is that it is a great natural aphrodisiac!
Bee Pollen Uses
Bee pollen comes in granulated form or a golden dust, and can be used:
…for humans, as a dietary supplement. Either you can grind it in a coffee grinder, or use as is in granulated form.
…for animals. If you are an animal lover, your pets would benefit from feeding on bee pollen, because it:
enhances vitality and growth
improves fertility and breeding performance
and increases egg production in birds
enhances performance of race horses
How to give it to your animals? Simply mix it in their feed.
Where to Get Bee Pollen and How to Properly Store It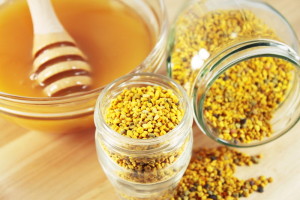 Fresh, high quality bee pollen is best, of course. It will be unpasteurized and the granules will be soft and pliable. Since fresh bee pollen is up to 20% water, it is generally sun- or oven-dried shortly after collection in order to remove water content and inhibit spoilage. If you can get your hands on fresh bee pollen, you can freeze it, thus retaining the water that keeps the granules soft, sweet, and bursting with nutrition.
Your local, trustworthy beekeeper is your number one source of bee pollen. If you live in the city, try health food stores or farmer's markets.
Most often, bee pollen will be bright yellow in color, but since seasons and plant varieties differ, the color may have brown, orange, purple, red or even green tinge.
Expert tip:  Look for the most colorful bee pollen, as that is an indicator that the bees have foraged from different plants, bringing you a host of health benefits.
Bee Pollen Precautions
If you're a first time bee pollen user, start slowly. At first, consume small quantities to ensure that you don't have an allergy and discontinue use if you notice any reactions. Of course, if you are allergic to bees, you should avoid any bee products.
Adults should start with 1/4 teaspoon of granules a day, and avoid exceeding two teaspoons per day.
Children who are not allergic to bees should start with just a few granules a day, and shouldn't exceed half a teaspoon over a 24-hour period.
How to Add Bee Pollen to Your Diet
Sprinkle bee pollen granules over yogurt or salad.
Incorporate ground bee pollen into homemade raw granola, raw protein bars, or raw desserts.
Garnish dark chocolate with bee pollen granules.
Spread raw , and sprinkle with granules.
Expert Tip:  Enjoy the granules with a piece of fruit first thing in the morning, because raw hemicelluloses (fruit fibers) enhance the activity of fresh pollen.
Bee Product #2 – Introducing Propolis
What is Propolis and How is It Made?
Worker bees harvest resins from tree bark, leaf buds, and mix it with honey, enzymes, and wax to use as crack filler in the hives. They seal all the openings or cracks inside the hive in order to repair and strengthen the honeycombs. Most importantly though, is the fact that propolis inhibits microbial growth, which is a real threat in the hive, which has a humid atmosphere. The blood cells are also lined with propolis as a preventative measure against disease. Propolis consists of approximately 50% resins, 30% waxes, 10% essential oils, 5% pollen, and 5% plant debris. As with all other bee products, the quality and composition of propolis very much depends on the vegetation near the hive. Therefore, it is a good idea to buy propolis from mixed origins.
Did You Know?  Red wine is purported to offer anti-cancer and anti-aging benefits, when consumed in moderation. However, it would take up to a year to obtain the same benefit from wine, as you would achieve from propolis in one day.
Why is Propolis Healthy?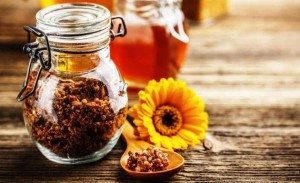 Propolis, also known as bee glue, is commonly used in cold and flu remedies, and even medical professionals who oppose natural remedies have to acknowledge research that proves the many health benefits of propolis, including the fact that it has powerful properties;
anti-inflammatory
anti-bacterial
antioxidant
anti-tumor
Propolis has been used for centuries, and it still outshines many pharmaceutical remedies on every level. It contains a whopping 180+ compounds that are good for you, including 16 amino acids, a variety of B vitamins, zinc, iron, calcium magnesium and antioxidant polyphenols.
While some medicinal plants contain a similar range of health giving properties, no single plant studied contains all the nutrients that propolis contains.
Main Health Benefits, Uses, and Precautions
Propolis has several health benefits, including:
It is a potent treatment for wounds and burns.
It soothes sore throats and stomach ulcers.
Used as a mouthwash, it reduces gingivitis and plaque.
It contains artepillin C and caffeic acid phenethyl ester (CAPE) – two powerful inflammation- and cancer fighters.
It has shown some potential in treating atherosclerosis.
It is a powerful antioxidant.
It is a powerful antiviral cold, flu and respiratory illness fighter.
Its antifungal properties are effective against Candida infections.
It is popularly used to combat swollen glands, gastritis, diarrhoea, acne, asthma and arthritis.
It has anti HIV-1 properties.
Human studies have shown tremendous results in clearing acute sinusitis and bronchitis in both adults and children. Children under the age of twelve, who received preventive treatment with propolis, experienced a 55% lower incidence of respiratory tract infections, as as a result, missed fewer school days.
Expert Tip:  Next time you fly, use a propolis nasal or throat spray to help prevent airborne disease. Also when oil pulling with coconut oil to clean your teeth, add 1 drop of manuka essential oil and 1 drop of propolis extract.
Where to Get Propolis and How to Properly Store it
Once again, the quality and composition of propolis will vary by region. However, it is important to purchase your propolis from a manufacturer who can guarantee good manufacturing processes and quality standards.
Imported propolis is usually also more than acceptable, provided it follows quality assurance standards. Much of the wholesale propolis is from China, and it is as effective as propolis manufactured in Europe. The only difference is the fact that it contains a lower concentration of active phenolics.
Brazilian propolis contains fewer flavonoids and more terpenoids. The CAPE levels in Brazilian propolis are also insignificant, which may reduce its anti-inflammatory effect. However, it has been shown to be effective in fighting bacteria, viruses and fungi.
Many health food stores and farmers markets sell propolis particle suspensions in honey. These suspensions are tasty, which makes it easy to give to children for sore throats. Raw honey propolis can be applied to skin infections, burns, and wounds.
Pharmacies and health shops sell alcohol-based propolis sprays for immune support and sore throats, as well as mouthwashes to promote dental and oral health.
Powdered propolis in loose powder form or capsules is handy for inflammatory conditions, wound care, and detoxification.
Store your propolis in a cool, dark place.

Precautions
Propolis should not be used by people who are allergic to bees, or by pregnant and breastfeeding women. In rare cases, propolis may cause allergic reactions such as contact dermatitis. Do not give the tincture to young children or to alcoholics, due to its alcohol content.
 How to Add Propolis to your Healthy Lifestyle
You can buy fresh propolis or propolis powder, and you can use it to make your own remedies.
Make your own raw propolis powder
Buy a large chunk of propolis.
Break it into smaller pieces, and store in the freezer.
After a day or two, it should be hard and brittle.
Use a coffee grinder to grind it to a fine powder for use in recipes.
Expert Tip:  Do not use a valuable blender to grind propolis, as it will leave a sticky mess that is difficult to clean, and it may damage your blender.
Make Your Own Propolis Extract
Mix a 1:10 propolis and water solution in a jar.
Let it stand for 10 hours, shaking it as often as possible.
Filter your propolis solution through a coffee filter.
Use it as a mouthwash, eye drops, or antiseptic wound rinse.
Make Your Own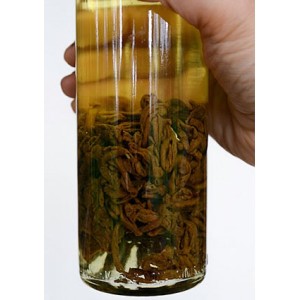 Propolis alcohol tincture offers the most therapeutic benefits, and you can add it to salves and creams to apply to a range of skin conditions.
Find a sealable jar, which you can fill half-full with raw propolis powder and top up with 90-96% alcohol.
Shake the mixture and let it sit in a cool, dark place for six weeks. Shake it as often as you are able to do so.
Filter your propolis tincture and store it in a dark tincture dropper bottle. (The darkness of the bottle protects it from light.)
Bee Product #3 – Introducing Royal Jelly
Where Does Royal Jelly Come From?
Honeybees secrete royal jelly, a substance that provides nutrition to both larvae and adult queens. The worker bees produce the royal jelly from the hypo pharynx glands, and it is also known as honey bee milk; in fact, it resembles heavy cream. However, most of the larvae are cut off after three days, while the queen larvae continue to be fed royal jelly – after all, queens need all the nutrition they can get to become sexually mature, fertile powerhouses. They need to lay more than their weight in eggs every day, for five to seven years. That's a lot of babies… at least they don't wear diapers!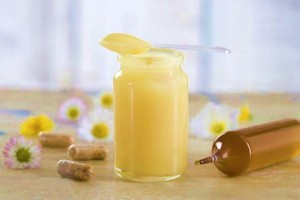 Royal jelly consists of approximately:
66% water
15% carbohydrates
13% protein
5% fat
1% trace elements
Why is Royal Jelly Good for You?
Royal jelly contains a complete spectrum of free and protein amino acids, and carbohydrates from glucose and fructose. Royal jelly is a rich source of phosphatidylcholine, which is an important cognitive nutrient for children and the elderly. It is powerful on its own, but it is especially potent in combination with propolis and botanicals, such as ginseng, maca, rhodiola, and ashwagandha.
Main Health Benefits, Uses, and any Precautions
Royal jelly offers a range of health benefits, including:
It restores energy, vitality, and strength, especially when used in conjunction with Ginseng.
It improves endurance.
It is helpful in providing nutrition to prevent deficiencies in athletes and convalescence.
It promotes hormonal balance in women and men alike, and provides support during menopause.
It improves mental alertness, intellectual capacity, and cerebral function in people who are overworked, and in students.
It reduces nervous tension, and promotes restorative sleep, aiding with insomnia and sleeping difficulty.
It provides a natural shield against a variety of conditions ranging from flu to cancer, bad cholesterol, and anemia.
It contains collagen, an important protein that promotes the health of human connective tissue, which in turn helps promote healthy skin and reinforces the hair, bones, and nails, combating bone demineralization and osteoporosis.
It is a natural aphrodisiac and it promotes fertility by boosting sperm and egg health.
Royal jelly is often added to skin care products to soften the skin.

Royal Jelly Uses
Royal jelly can be eaten fresh once daily, using a plastic teaspoon, straight from the jar. Let it dissolve under the tongue for a few minutes.
It can also be taken in supplement form, but it is better absorbed by the body when taken fresh, under the tongue.
Royal Jelly Dosage & Precautions
If you're using royal jelly as a preventative measure, take a 15-day break after every 30 days of using it. Royal jelly has potent antibacterial properties that can disrupt the normal functioning of digestive flora.
When taking royal jelly as treatment for a sickness, you should expect improvement after 15 days of taking it daily, but an equal break is mandatory.
Once again, do not use if you are pregnant, breastfeeding, or allergic to bees.
Where to Get Royal Jelly and How to Properly Store It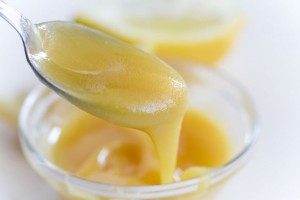 Most health food stores that sell dietary supplements should be able to provide you with royal jelly in liquid or soft gel capsule form. However, since the process of making royal jelly is slow and uneconomical for small beekeepers, you will probably be able to source it faster from bigger beekeepers. Some health stores and farmers markets will sell local raw honey with the royal jelly mixed in; the honey acting as a natural preservative.
Don't buy vials of royal jelly, as you do not know how it was stored.
Royal jelly should be stored in dark jars in the refrigerator.

How to add it to your Diet
Royal jelly is best enjoyed straight from the jar, but do not exceed the recommended dosages. It is very powerful.
Dosage for adults:  1 gram per day
Dosage for children over 5 years of age:  0.5 grams
Dosage for infants:  0.5 grams, or 0.01g per kilogram of body weight.
Bee Product #4 – Introducing Raw Honey
Aaah, what can we say about honey? The golden liquid really needs no introduction. It is so sweet that we use the word honey as a pet name for our loved ones.
On a serious note though, honey is a versatile syrup that can be used on food, beverages and topically for its countless benefits.

Where does it come from and How is it made?
Honey starts out in the flower, specifically, as flower nectar. Bees collect the nectar, and break it down into simple sugars, which they store in the honeycombs. Evaporation occurs due to the innovative design of the honeycomb, and the constant fanning caused by the bees' wings, which results in creating a thick, golden, sweet, and health-promoting liquid.
What Makes Honey Healthy?
Honey is made up of approximately 21% water, and the remainder is almost all carbohydrates. Approximately 85% of all the solids in honey are fructose and glucose, with some trace amounts of other types of sugars. As with other bee products, the exact composition varies by the location of the beehive.
Raw honey contains an important sugar molecule, known as oligosaccharides. While the human body doesn't easily digest oligosaccharides, they are valuable prebiotics on which our beneficial gut bacteria thrive.

Main Health Benefits, Uses and any Precautions
The numerous health benefits of raw honey include:
It is commonly used in OTC cough medications, since it soothes coughs and irritations in the upper respiratory tract.
It has antioxidants, antifungal and antibacterial properties that make it an effective wound treatment for burns, cuts and bites.
It is effective in treating scalp conditions, such as seborrheic dermatitis.
It boosts energy levels before and after a workout.
It can bring about a 60% reduction in allergy symptoms. Research has shown that a test group used less than half the amount of antihistamines when they took honey.
It can reduce gastrointestinal disorders, such as bacterial gastroenteritis and ulcers.
The antioxidants and flavonoids in honey can help boost the immune system and reduce the risk of heart disease and some types of cancer.
It can help regulate blood sugar through the exact combination of glucose and fructose.
It offers skin-beautifying properties.
Uses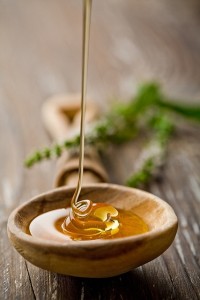 Raw honey has as many uses as it has benefits. It can be used as a natural sweetener in foods and beverages, or it can be applied topically. Many manufacturers add honey to their beauty products and medicinal treatments.
Expert Tip:  Use raw honey as a face cleanser to remove make-up.  It works wonders for acne and to prevent blemishes.
Did You Know?  The World Health Organization listed honey as a demulcent, which relieves throat and mouth irritation by forming a protective film.
Precautions
Beware of "fake" honey, often sold as "honey flavored syrup", but sometimes as actual honey. Remember… All honey is not created equal. Approximately 75% of all the honey on supermarket shelves is ultra-processed, meaning it isn't raw and is void of the health benefits.
Don't consume honey if you're allergic to bees.
Where to Get Raw Honey and How to Properly Store It
Rather purchase honey from farmers markets and health food stores. Choose 100% pure, unfiltered, raw honey from trusted sources. The darker the honey, the more beneficial. Some people prefer Manuka honey, which contains more antioxidant power than standard honey.  Store all your honey and bee products in a cool, dark place.
How to Add it to your Diet
Most people have no problem adding honey to their diets. Here are a few ideas:
It can be used as an alternative sweetener to sugar in cooking, baking and in tea.
It can be used in homemade cough remedies and skin care.
It can be used as a salve to apply to cuts, scrapes, and burns.
It can be drizzled over waffles as a healthy alternative to syrup.
It can be eaten by the spoonful from the jar for energy, or as a health boost.
Healing Recipes & Tips
Want to supercharge your health with bee products? Let's take a look at some popular recipes…
Dip freshly cut fruits such as apples, pears, and bananas in honey to prevent it from browning. The honey will prevent oxidation.
Keep your fruit salad fresher for longer by adding honey and vitamin C powder to it.
Use honey as a natural sweetener in homemade lemonade and barbecue sauces.
Make a honey body moisturizer by mixing 5 tablespoons of honey with 2 cups almond oil and 2 tablespoons lavender oil. Apply this lotion onto wet skin as often as needed.
Make your own honey conditioner for your hair by mixing 1/2 cup honey with 1/4 cup olive oil. Apply a small amount to your wet hair, and cover it with a shower cap for 30 minutes. Shampoo as usual, and rinse.
Make your own honey cough syrup by gently warming 1/2 cup raw honey with the juice of a whole lemon. Strain out the seeds and allow it to cool before storing it in a sealed jar in the refrigerator.
Prepare a potent sleep remedy by cutting off the ends of a fresh banana, and boiling it (the flesh with peel) in a cup of filtered water and a cinnamon stick for 5 minutes, then strain. Add a teaspoon of honey to the liquid, drink the banana tea and enjoy your best natural sleep ever!
Add bee pollen to smoothies. Adding herbs such as cinnamon can supplement its flavor.
Make a Digestive Soother by mixing 2 capsules (1g) propolis powder, or 1/2 dropper of extract with 2 tablespoons raw buckwheat or Manuka honey and 2 teaspoons fresh royal jelly. If you're using propolis capsules, break them open into a small dish and discard the casings. Add the other ingredients and mix well. Consume the mixture on an empty stomach shortly before you go to bed. Rinse mouth well with water to ensure there is no remaining residue. Don't eat or drink anything other than water afterward.

Conclusion
If you weren't convinced that our bees are worth looking after, I hope you are now.  Honey Bees are endangered and there is a global concern about colony collapse disorder (CCD) and the disappearance of our bees in their natural habitat. The main causes are due to parasites (such as the one-two punch varroa and tracheal mites), pesticides, geo-engineering and genetically modified uses in farming.
Geo-Engineering (aka: Chem Trail Spraying) is deadly to bees. This spraying of toxic chemicals 
covers the atmosphere with bioavailable nano particles. These particles (barium, nano aluminum-coated fiberglass, radioactive thorium, cadmium, chromium, nickel.. and the list goes on) are drastically affecting all life forms. Scientists have found extremely high levels of aluminum in bees, amounts that would cause brain damage in humans. Farm Pesticides are usually used as the scapegoat, but they are only part of the problem.  If that was the primary reason, why are the bees dead in the same proportion deep into the wilderness as they are near the farms?
Bees are essential, for they are the pollinators of the earth.  We can help by playing our part, buying from local bee keepers and supporting farmers that grow without pesticides. It's healthier for us and the bees! Remember the biggest way to impact… is with our spending money!
It is in our interest to take care of bees, because they offer such potent products that benefit almost every aspect of our good health. Do you use any of the bee products I mentioned above? Do you have an awesome testimony to share? I'd love to hear from you! Please feel free to share your story in the comments section. Until next time, bee healthy and bee happy!
References:
Apitherapy – http://www.apitherapy.org/about-apitherapy/what-is-apitherapy/
Bee pollen & diet – http://www.mercola.com/article/diet/bee_pollen.htm
Bee pollen – http://www.mercola.com/article/diet/bee_pollen.htm
Propolis – http://www.savvy-african.com/Propolis.html
Royal jelly – http://en.mr-ginseng.com/royal-jelly/
Royal jelly & fertility – http://natural-fertility-info.com/royal-jelly.html
Royal jelly – http://beetime.eu/royal-jelly-benefits/
Royal jelly – http://www.mmm.ba/royal-jelly/Use-and-dosage-Royal-jelly.html
Honey – http://articles.mercola.com/sites/articles/archive/2014/10/20/health-benefits-honey.aspx
CCD – http://www.globalresearch.ca/death-and-extinction-of-the-bees/5375684
Geo-Engineering http://www.geoengineeringwatch.org/no-bees-no-food-no-people/
Geo-Engineering http://www.dailymail.co.uk/sciencetech/article-3112575/Bees-suffer-dementia-metal-pollution-Aluminium-contamination-insect-decline.html